What we collect
Library & Archives NT holds some of the world's most significant collections relating to the history, development and culture of Australia's Northern Territory.
Library & Archives NT collects, preserves and provides access to historic and contemporary materials relating to the Northern Territory. This mission is supported by Legal Deposit legislation, and the Information Act (2002) Part 9, which enables us to comprehensively collect items about the Northern Territory.
Library & Archives NT now holds over 300,000 images, books, manuscripts, maps, newspapers, ephemera, oral history interview recordings and audiovisual materials, making it one of the most significant collections of its kind in the world.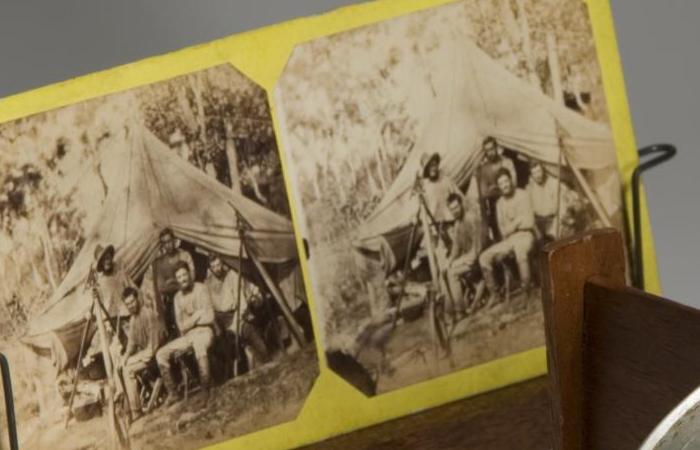 Library & Archives NT is particularly focused on collecting items that are:
about, related or significant to the Northern Territory
written by Northern Territorians
published or produced in the Northern Territory
Types of collections

| Item | Description |
| --- | --- |
| Audiovisual materials | Featuring recordings of local bands, rare historic footage, films, documentaries and radio programs, the Library's audio-visual collection is a feast for the eyes and ears. More than 4000 items are available for access during opening hours. |
| Ephemera | From posters to election pamphlets, menus to event programs, invitations to junk mail, this collection offers a unique insight into the communicative trends underpinning Northern Territory social and cultural life. |
| Images | The collection comprises more than 100,000 historic photographs, postcards, illustrations and albums relating to life in the Northern Territory from the 1800s onwards. |
| Manuscripts | The manuscript collection includes personal papers, letters, diaries and notebooks providing an intimate record of life in northern Australia. |
| Maps | View history from above: explore more than 3000 rare maps documenting the Northern Territory's cultural history, exploration, borders, settlements, industry and geology. |
| NT Government archives | NT Government archives that have been created since the government's establishment in 1978 or have been inherited from agencies whose function has become the responsibility of the NT Government since self-government. |
| Oral Histories | Recordings of interviews with a diverse range of people about Territory life and history. Interviews have been recorded since the 1970s and feature recollections of the Territory dating back to the late 19th century. |
| Published materials | Our book, periodical, report and newspaper collections feature over 80,000 historic and modern, regional and national publications available in the library, online and via microfilm. |
Explore our collections online
Dive deeper into the Northern Territory Library's extensive online collections by searching Territory Stories.