Congratulations to the winners of the 2019 Northern Territory Literary Awards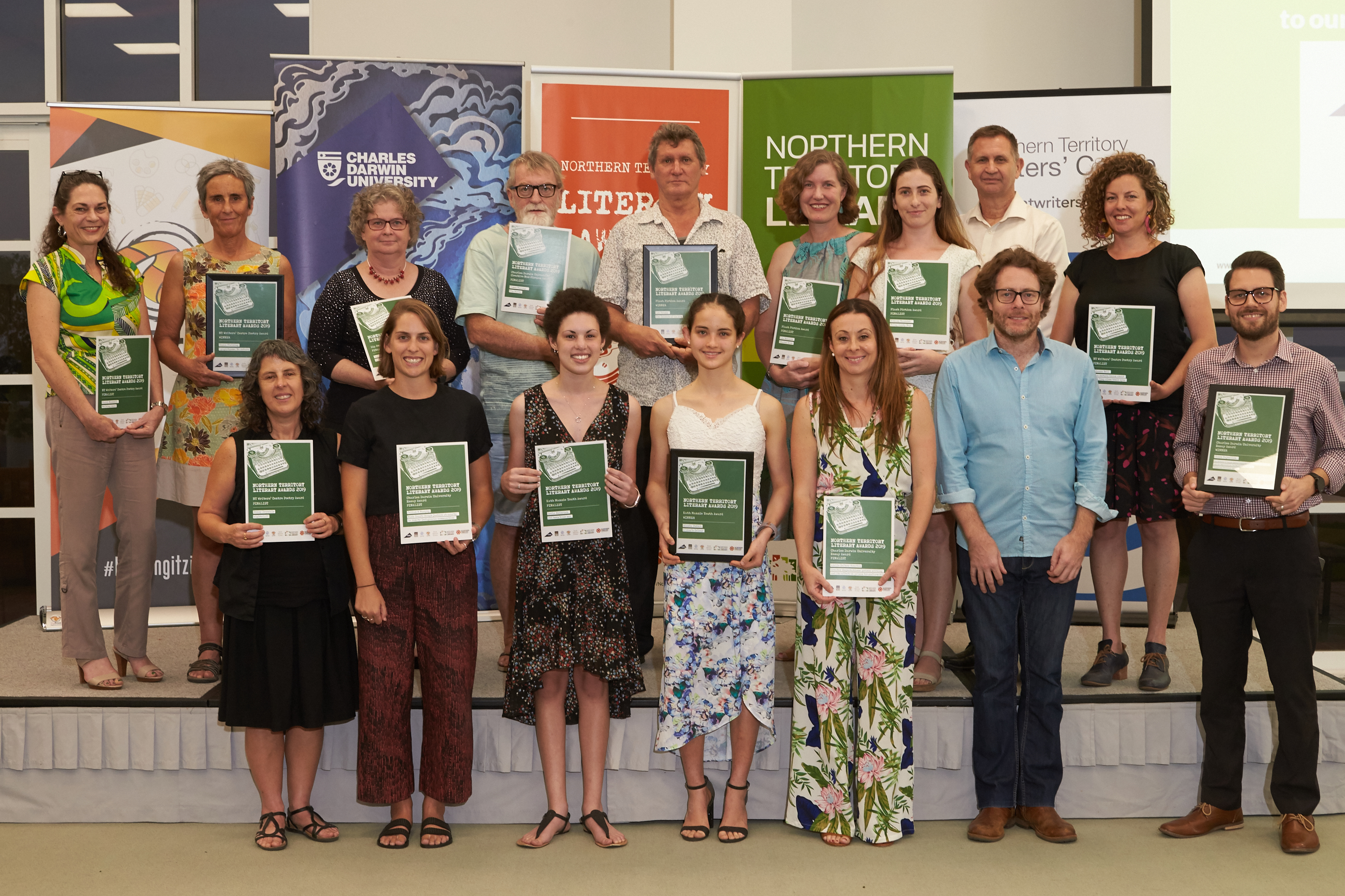 The winners of the Northern Territory Literary Awards have been announced at a ceremony held at the Northern Territory Library, Parliament House. Twenty-five works were shortlisted from a pool of over 230 submissions, seven of which were selected as winners across the categories. The 2019 winners included: 
Brown's Mart Theatre Award
One More Hour, Mary Anne Butler
Charles Darwin University Creative Non-Fiction Award 
Still Flossing, Roland Bull 
Charles Darwin University Essay Award
The Effects of Online Sexual Activity on Adolescent Development and its Implications for Northern Territory Middle and Secondary Schools, Jacob Fajzullin
Flash Fiction Award
The Colours of an Arm, Lee Frank
Kath Manzie Youth Award
A Liar's Colour, Elisha Pettit
NT Writers' Centre Poetry Award
Lyapirtneme/No return, Susan Fielding
Zip Print Short Story Award
Centring, Glen Hunting
Minister for Tourism, Sport and Culture, Lauren Moss said that the winning entries were recognised for their excellence in craft, their originality and their sense of creative flair. 
"Storytelling has always played an important role in the Northern Territory, providing an important vehicle for Territorians to share experiences and ideas, to make sense of our world and each other, to entertain and enlighten.
"The Awards are an opportunity to acknowledge and showcase the depth and breadth of writing talent across the Territory and to celebrate our vital and vibrant writing community. 
"There was a vast range of ideas and writing styles evidenced in this year's submissions, reflecting the uniqueness of our writing community and indicating a healthy future for Territory writing and storytelling. Congratulations to the 2019 winners" Minister Moss said.
Glen Hunting acknowledged fellow entrants upon receiving the 2019 Zip Print Short Story Award.
"I'd like to pay tribute to anyone who entered in any of the categories within the Northern Territory Literary Awards. You are all striving, as all writers do, to convey your truths in ways that give pleasure and insight, and that expand and enrich the human experience. This is worthy and necessary for all of us" Mr Hunting said.
Now in their 36th year, the Northern Territory Literary Awards were established to celebrate the rich vein of talent present throughout the Northern Territory literary community. Every year, emerging and established writers are invited to submit their unpublished works for a chance to win cash prizes plus an annual membership and masterclass with the NT Writers' Centre. 
The annual Northern Territory Literary Awards are part of an ongoing program of events at the Northern Territory Library that celebrate the achievements of established and emerging writers, storytellers and prominent Territorians.
The winning and shortlisted works have been published in an annual publication available free in printed form at the Library or online. 
Photo of winners and finalists from the 2019 Northern Territory Literary Awards ceremony. Shane Eecen Photography